Create a Pinterest board inspired by Father's Day and you could win a $50 Cavender's gift card, a pair of Justin boots and a Wrangler outfit.
Rules to Pin By
1 CREATE: Create a Pinterest board titled Cavender's Father's Day Wishlist
2 PIN: Pin the contest image below, Father's Day inspired pictures, 4 Wrangler items, and 3 Justin boots. The Wrangler and Justin pins must come from Cavenders.com.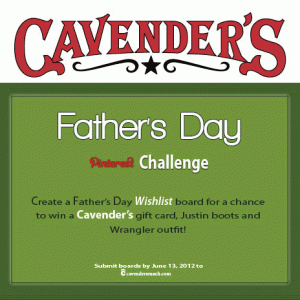 3 SUBMIT: Submit you board here. Entries close June 13, 2012 at 11:59 pm CST.
4 WINNER: Boards will be judged on the basis of creativity, positive representation of Cavender's and Mother's Day, and composition. Winner will be announced on Friday, June 15.
Be sure to check out Cavender's on Pinterest
This contest has ended. Winners will be announced soon.
Winner
Holly Folkerts (Justin Boots, Wrangler outfit and Cavender's gift card)